war
since then. Not a proper one, mind you, just something to keep the Russians match-fit. Also since my last Livejournal entry I've been charged by the police with four separate offences after Oscar decided to chase after some deer in Richmond Park. It wasn't my fault, but apparently that cuts no ice with the rozzers these days. You try explaining that you never even saw them until it was too late - expecting Dibble to take the broad, tolerant view, nodding sympathetically and adding the occasional "I quite understand, sir", and "not your fault at all, sir", before waving you on your way. But no, instead you're subjected to a lengthy harangue replete with vivid details of screeching brakes and swerving cars trying to avoid the herd of
Cervus elaphus
leaping over their bonnets hotly pursued by a whippet. Apparently they might decide it's not in the public interest to prosecute me bearing in mind that, as far as they know, I am of Sound Character – there's probably an address you can write to if you want to dispute this, but don't expect me to help you find it. Either way I'll be sure to let you know if any further hilarious scrapes result, like a prison sentence or something.
I was given the formal police caution, which was quite exciting as I'd only previously ever heard it on The Bill. "You do not have to say anything", the officer began, then continued, "but it may harm your defence if you do not mention when questioned something which you later rely on in court". "Anything you do say", he added, "may be given in evidence. Do you understand?" Well as you know we Wards are quick-thinking types, always ready with the appropriate
bon mot
for the occasion, and quick as a flash I shot back, "Yes".
Well anyway the
Curtis Stigers gig
I mentioned in my last entry is this weekend, so I thought it might be a good idea to celebrate with another episode of Curtis's Tigers. Then I realised it probably
wouldn't
be a good idea to celebrate with another episode of Curtis's Tigers, so I decided not to. It's funny, isn't it, how a brush with the law can turn you into a more mature and sensible character. So instead, inspired by watching Goldie on BBC2's "Maestro", I've come up with some more
Negative Lookey-Likies
. I've put them behind a cut so that you're able to pretend they don't exist: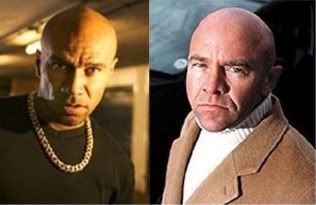 Goldie, and irksomely ubiquitous, unamusing untalented gurning dwarf Dominic Littlewood, as seen on TV's Faking It, Wrong Car Right Car, To Buy or Not to Buy, How I Made My Property Fortune, Beat the Burglar, Holiday, The One Show, Don't Get Done, Get Dom and Strictly Come Dancing.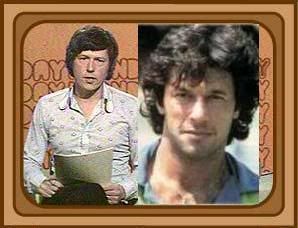 Newsround presenter John Craven and former Pakistani cricket captain Imran Khan. Imran Khan is married to David Bowie, while John Craven was the subject of kd lang's 1993 hit "Constant Craven".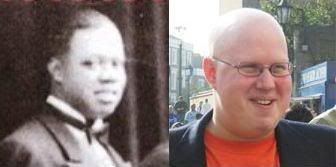 A young Louis Armstrong and TV's Little Britain's Matt Lucas. "I'm a lady!", that's what he says, isn't it. Louis Armstrong, I mean.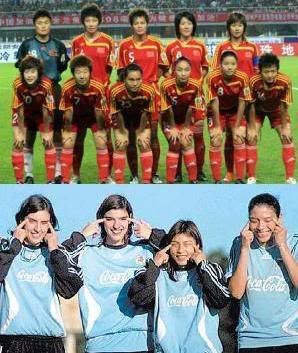 The Chinese Olympic women's football team and the Argentinian Olympic women's football team, but don't ask me which is which, they look so alike I couldn't possibly tell.

In other Olympic news, imagine my
horror
last week when I saw the following billboard outside my local newsagents: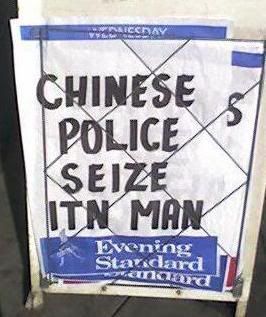 I mean, the thing is, not only am I a sufferer from Dyslexia, I'm also a
fanatical
devotee of the Wizard of Oz. All I could think was "are the scarecrow and the lion ok?" Fortunately it turned out to be just some television journalist or other being arrested in yet more evidence of human rights abuses in China. Phew!
It's been so long since my last Livejournal entry that there's been an actual